2022 Troy Fair Queen & Court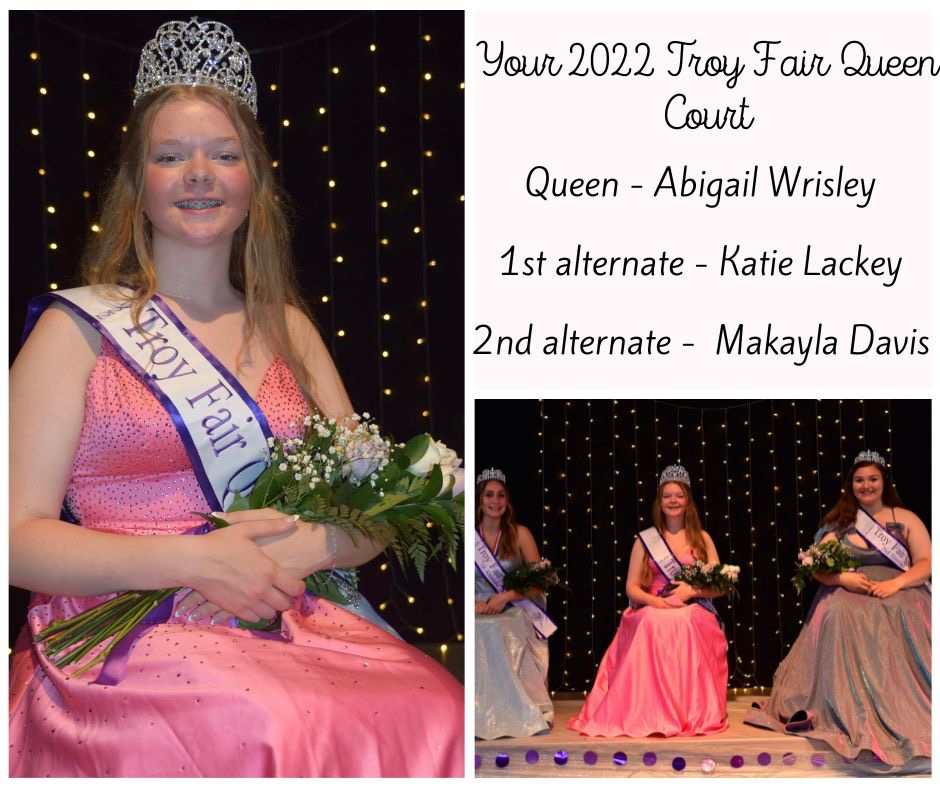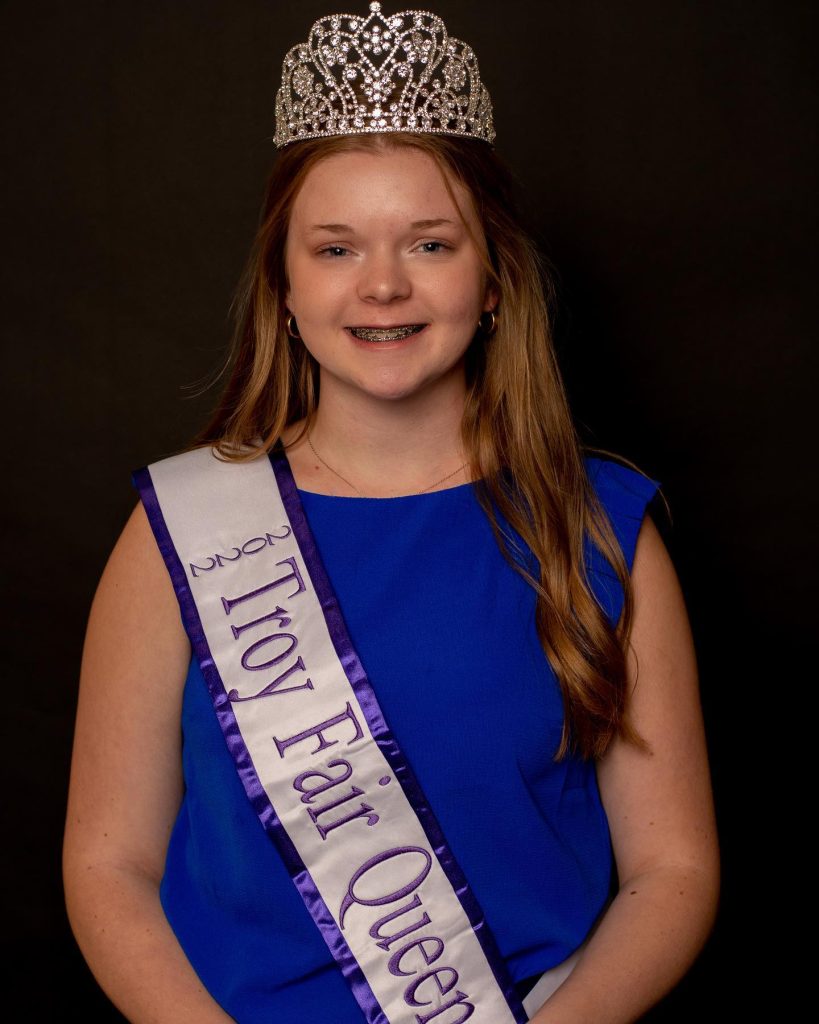 For more on the responsibilities of the Troy Fair Queen and her alternates, click Troy Fair Queen Handbook and Application to read the queen handbook. You will need to fill out and sign the last page of the handbook to complete your application. 
                Troy Fair will be holding its opening ribbon cutting ceremony on Sunday at 7:00 PM located under the pavilion in the lower meadow. Immediately following the opening ceremony, we will be hosting the annual Troy Fair Queen Pageant. The contestants will be introduced by the Master of Ceremonies, Shane Wilbur and escorted by their parents or guardian(s). They will be judged prior to introduction by a panel of 3 judges on a prepared essay, a personal interview, and knowledge of the Troy Fair and how agriculture plays an important role in our community. Their poise, appearance, and professionalism are essential to the crowning of the 2023 Queen.
                Once crowned, the queen will be a representative of the Troy Fair as well as those chosen as 1st and 2nd alternates. We are encouraging all contestants to stay throughout the week, to be ambassadors of the fair. Their duties will be abundant. Welcoming fair goers, making daily announcements, participating in daily activities, escorting dignitaries through the fair, and helping in the fair office, will be just some of the responsibilities expected of the queen and her court.
                Throughout the year, the queen and her court will promote the fair by attending functions at area schools, speak at special interest meetings, parades, do local radio announcements, and various events in the county. The queen will represent the Troy Fair at the annual State Fair convention in January, 2024 at the Hershey Lodge and Convention Center in Hershey, PA. This is a three day convention and is the financial responsibility of the Troy Fair for the queen and her parents/chaperone only. 
The qualifications for Troy Fair Queen are as follows:
Female, Pennsylvania resident and U.S. Citizen.
Live in or attend a school in Bradford County.
Be at least 16 years old before June 1st, 2023 and not over 20 years old by June 1st, 2023.
If under 18 years old, she must have parent's or guardian's consent.
Be single, never married, have had no children and must not marry nor get pregnant during her reign.
Must be of good moral character (at discretion of the Troy Fair Board).
Have some agriculture knowledge and a strong interest in promoting the Troy Fair.
Prepare a 300 word or less essay, entitled, "What the Troy Fair means to my community"
Not be a former Troy Fair Queen nor State Fair Queen contestant.
Not be a current title/pageant winner for any other commodity.
Must meet all time commitments, Queen obligations, and dress code established by the Troy Fair Board and the PA State Fair Queen program.
Please contact Dawcin Jones ! Should you need further information, email troyfairqueen@gmail.com