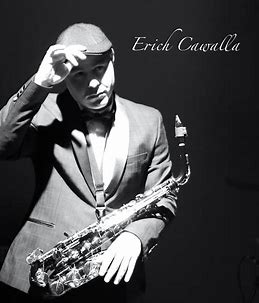 Lower Meadow Pavilion Stage
2pm, 5pm, 8pm
Free with Gate Admission
Pennsylvania native Erich Cawalla is a Nationally-Charting Singer, Saxophonist, Recording Artist, and Educator. Erich's unique talents merge "Old Vegas with Contemporary R&B" in tribute to some of his biggest idols including Frank Sinatra, Tony Bennett, Bobby Darin, Smokey Robinson, David Sanborn, Chet Baker, Frankie Valli, Kenny Rankin, and Junior Walker, to name a few.

Erich is a BMI-affiliated songwriter and a Grammy Voting Member of the National Recording Academy. In 2022, he released his debut full-length solo recording,  "Erich Cawalla – The Great American Songbook", performing original arrangements of classic standards in a traditional big band format. The album held at #1 for 3 weeks on the RMR Top Crossover Jazz Album Chart and peaked at #14 on the the RMR Top Jazz Album Chart. It was also the #1 Added Jazz Album in the country on the NACC Chart for its week of release. The song "One For My Baby" was the #1 Crossover Jazz Song in the country for 5 weeks. Special Guests on the album include legendary Trumpeter Randy Brecker, Violin Virtuoso Karen Briggs, Percussionist Doc Gibbs, and other industry heavyweights. Erich has dedicated the album to his arranger Dave DePalma who passed away unexpectedly during the album's completion. This motivated him to create an all-new show featuring Dave's arrangements entitled "Erich Cawalla Presents The Music of Sinatra, Bennett, Darin, & More" which he performs at theatres and festivals throughout the country.
Erich holds a BSBA in Accounting from Shippensburg University of Pennsylvania and realizes the importance of educating and guiding today's youth. He has taught saxophone, flute, and clarinet to over 150 students since 2002 and speaks at various Career Days at local colleges and high schools. Many of his students become members of National, All-Eastern, State, Regional, and District Band ensembles. Erich's students have also grown up to be successful full-time musicians, educators, and military band members. In 2022, in an effort to further his educational and entrepreneurial goals, Erich purchased Spyro's Modern Music by Erich Cawalla which serves as an education and recording mecca in his hometown of Reading, PA. He accepts scholarships of all types as a Reading Musical Foundation accredited instructor.

Always looking to further develop, in 2012 Erich purchased Anjoli Productions, a full-service entertainment booking agency. As owner of Anjoli Productions, Erich has built booking relationships with many industry stars including Chris Stapleton, Michael Franti, Molly Ringwald, Diamond Rio, John Michael Montgomery, Sammy Kershaw, Collin Raye, and Aaron Tippin. He also serves as the exclusive booking manager for Twitty and Lynn: A Salute to Conway & Loretta, which features Conway Twitty and Loretta Lynn's grandchildren, Tre Twitty and Tayla Lynn. 

In 2006, Cawalla started The Uptown Band, becoming extremely popular as a featured act headlining hundreds of shows and numerous charitable functions in the Northeast. After achieving success as a cover group, The Uptown Band began recording original music in 2008. The group's recordings have received critical acclaim throughout the world with the release of 2 full-length albums including Waiting for Her in 2008 and Heart, Soul, Body, & Mind in 2014. Special Guests on the band's albums have included Will Lee, legendary bassist for the CBS Orchestra on The Late Show with David Letterman, trumpetist and founding member of Tower of Power Greg Adams, and legendary percussionist Doc Gibbs, former Musical Director on The Food Network's Emeril LIVE. "Waiting for Her", the band's 2008 title track written by Cawalla and Marty Mellinger, received airplay on Music Choice's Smooth Jazz Channel on National Cable TV. "SJ3", written by Cawalla and the band's Producer and The Three Degrees' Musical Director Bennie Sims, rose as high as #9 in the country on the Groove Jazz Radio Chart. Most recently, the band released a cover of the Maxi Priest hit "Close to You" which peaked at #27 in USA Today's National Contemporary Jazz Chart. Cawalla and Sims, along with Curtis Harmon (drummer for Contemporary Jazz legends Pieces of a Dream) wrote "BJF25", a commemorative song celebrating the 25th Anniversary of their hometown Boscov's Berks Jazz Festival. The recording features Cawalla, Sims, and Harmon performing alongside Contemporary Jazz Heavyweights Rick Braun, Chuck Loeb, and Brian Bromberg.
​
Erich again teamed with Sims and released his first solo Contemporary Jazz release "222 South" in 2017. The song, written about his hometown highway in Reading PA, charted on the nationally-syndicated Smooth Jazz Network, receiving significant radio airplay throughout the world.
​
Live performance credits include performing in the bands of Marie Osmond, The Skyliners, Bill Haley's Comets, The Coasters, Marty Haggard, and The Earls, as well as serving as an opening act for Jeff Dunham, Martha and the Vandellas, Gene Chandler, Sonny Turner's Platters, The Happenings, and Harold Melvin's Blue Notes. He has also been a featured soloist with the Reading POPS Orchestra on three occasions, the Shippensburg Festival Chamber Orchestra, and the Hershey Big Band. TV Wise, Erich has appeared on All Night with Joey Reynolds  (NBC – New York, NY), Great Day Live (CBS – Tampa, FL), and Good Day PA (ABC – Harrisburg, PA). Some of his more notable performances include performing The National Anthem at The Philadelphia Phillies, at Florida State University for the Florida Republican Inauguration Gala, 18 straight years at the Berks Jazz Festival, Bethlehem Musikfest, Charlotte's Independence Arena, the MGM Grand in Las Vegas, the Nugget Casino Resort in Reno, Walt Disney World, and Carnegie Hall as a senior in high school. Erich  was also a finalist in 98.1 WOGL Radio's Philly Idols Contest.